The Main screen is in middle takes so much space and the mid vents are so low, I tried to put there but I can't see the phone, its too far away. The right side of the vent has bump over the console and can't place there too. Any suggestions?
---
---
---
Oh well - it's the only example I've seen so far.
---
I've just ordered
https://www.broditcenter.nl/brodit-proc ... sole-mount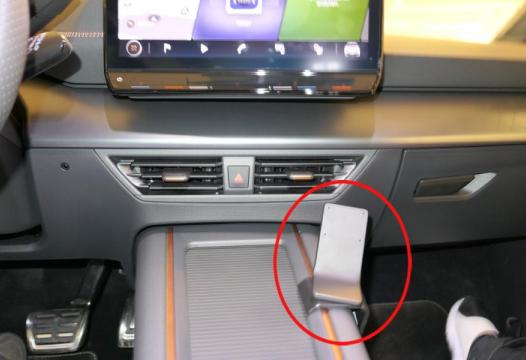 I've got a SP connect case on my iPhone 12 which offers me a simple mount by sticking a plastic quick release on the Brodit mount:
Or, I can mount the wireless charging module on the brodit mount and charge the phone.
https://sp-connect.eu/nl/collections/el ... ing-module
---
Got the Broit Proclip delivered and installed. It clamps itself around the shoulder of the center console. It's not possible to slide it more towards the back of the car because the shoulder then narrows and the clip doesn't have enough tension to stay put. Still, feels like a proper mounting for additional phone holder.
I've tried the SP connect quick release but the height of the mounting plate is too low for the phone to rotate and attach itself. So, I've used my previous adjustable phone holder from Brotit
Next step is to find a nice way to route a cable without it showing too much
BTW: there's also a RHD version available:
https://www.brodit.com/en/product/635734


---
Posts: 59
Joined: Fri Jul 15, 2022 5:38 pm
What do you need to have the phone visible for?

Calls can be done through the car, so can messages.
2016-2021 - Nissan Leaf Tekna 24
Sept 21-July 22 - VW ID.3 Life Pro Moonstone
July 22 - Cupra Born V1, Vapor grey, Tech Pack L, 19" Typhoon alloys
---
---
---
You may also be interested in...

Replies
Views

Last post